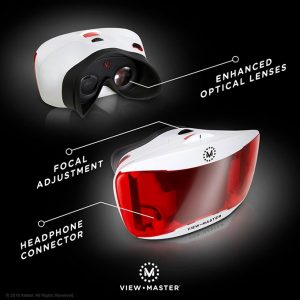 I've been spending a lot of time in VR Space using an HTC Vive and while I like it, it is cumbersome to wear and it's just a hassle to constantly remove and put back on the headset when you're trying to do any debugging. I was thinking, "Boy, I wish a had a simpler VR headset handy."   I was thinking of getting a Google Cardboard unit to see how that worked and while I was poking around Amazon on stumbled on this a high end Google Cardboard device from Mattel called the View Master Deluxe VR Viewer. The review were positive so I parted with the $29.99.
It arrived in 2 days and after unboxing, it was clear that Mattel did a really nice job on this unit. It's study plastic and holds a smartphone securely.   I was disappointed to see that it's not possible to use the headphone extension cord inside the unit to bring audio to the outside of the unit. The Apple lighting port to audio jack connector doesn't have enough room to fit inside the unit.  Luckily, I switch to using an iPhone 6S and got up and running in no time.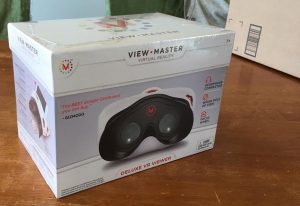 I've tried a number of VR units and always end up trying to fight my cram my glasses inside the unit. I was pleased when I realized that because of the focal adjustment wheel, I could use the unit without my glasses!  The result is that this unit has about the most clear picture I've seen on any headset so far! Go figure…
My son, Xander, and I played with the unit and tried out several apps. Between the two of use, we didn't put the View Master down all day and even the next. For $30, I figured we'd try it out a few times and it would find it's way to the gadget heap. Not so fast! While playing games on the unit if cool, the real excitement starts when you add in Youtube which has a number of 360 degree videos.  I know this thing is a toy, but I couldn't help feel like that we are standing on the edge of revolution in content viewing. TV just doesn't live up to the immersion you feel using even this low end headset. Job well done Mattel!